UYMG Sydney March 2008 (Unleash Your Marketing Genius) has been and gone and I had a wonderful time again. I wanted to get this and some other UYMG posts out earlier, but I had some unforeseen difficulties that I had to sort out first, including computer PC problems. I will not get into that now though.
The attendance was good considering that the WIS (World Internet Summit) was being held at the same time, and there was a great deal of energy in the room. Thanks for all that participated in the event to make it all so worthwhile. The good news is that UYMG and WIS will be combined in Dallas, Texas 22-25 May. I will be there, so hopefully I shall see you there too.
Many may not realize that Stephen Pierce did not get his luggage until the day before he had to go back home. In fact both he and Alicia lost their luggage on the return trip too 🙁  . Stephen and Alicia had to hustle around town to find suitable clothing for him to wear at the event. Alicia told me that she had previously bought some expensive clothing for Stephen just for the event. Despite all the chaos, Stephen provided a few days worth of  internet marketing and related content in his usual professional and informative manner. Everyone seemed to pay close attention to every word he spoke, as they should have.  I was quite amazed and impressed with the fact that Stephen sometimes did not know what he was going to talk about until moments before he went on stage.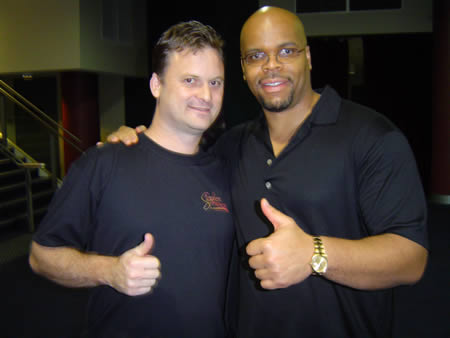 Above is a photo taken of Stephen Pierce with me at UYMG Sydney 2008. Have a look at the size of his fist and forearm. I had better stay on the good side of Stephen… only joking.
Alicia was as lovely as usual at UYMG Sydney 2008. Every time I have been in contact with Alicia she has been very helpful and friendly to me.  I know that Alicia has faith in me and I really appreciate the support she has given me. Alicia does a lot of work in the background to help support and promote Stephen and they complement each other very well. I loved the hat that she was wearing at the event. The hat can be seen in the photo below of Alicia Pierce and me.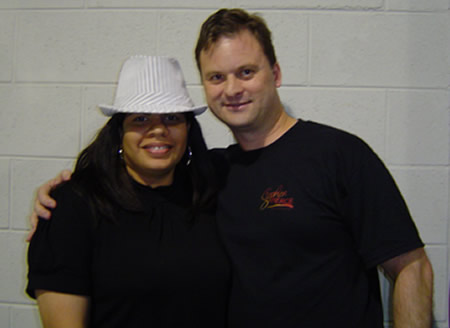 Laura Remeselnik is well known within the SMCC community, where she works flat out. It was her first appearance at a UYMG event in Sydney and I was glad that I got to catch up with her in real person after receiving many emails from her in the past. Laura, along with with Sern Yi (The SMCC development manager and one of the nicest person that I have met), gave a hands on presentation about web pages and ftp.  I found Laura to have a pleasant and unique personality.  I enjoyed the conversations that I had with Laura and enjoyed working with her at the event. Laura is also mad about craft work, so we had some craft exercises to do in the pre UYMG training.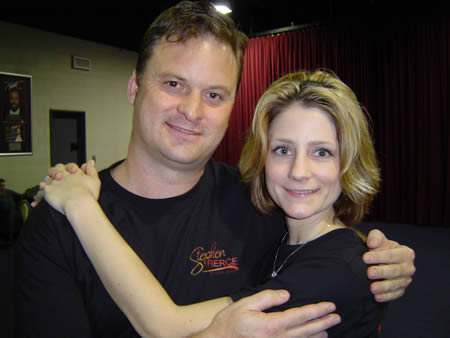 Above is a great photo of Laura Remeselnik and me at UYMG Sydney 2008. Don't worry Maureen (my girlfriend), Laura is happily engaged to be married. Raymond, make sure that you take notice of that last sentence! Also notice the picture of Pavarotti in the background? That photo of Pavarotti will become relevant in a future post.
Unlike 2007, UYMG Sydney 2008 was held at the Acer Arena at Sydney Olympic Park. While the Acer Arena may have been difficult for some people to get to, I had the pleasure of dealing with some of the staff who ran the Arena and I found them to be very nice. In case you are reading this post, a warm hello to all, including the manager, head caterer and the cleaner. 
My dad "John" was part of the Alpha Leadership group this year and we both shared accommodation at the Ibis. The Ibis was less than a 10 minute walk to the Acer Arena, so it was very handy for us. I only wished that they remembered to replace the towels when they took the used ones away for cleaning. My dad was suffering from a cold and was coughing and spluttering at night.  You would not know it though as he was lively and very helpful at the event.
Below is a photo of Stephen Pierce, dad and me at UYMG Sydney. You can see dad and me propping Stephen up to make him look taller, well it almost looks that way.. lol.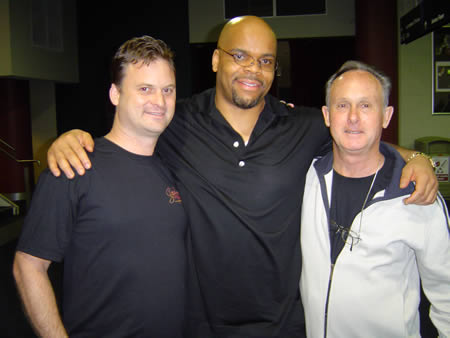 UYMG had several guest speakers of which I shall write posts about in the future. Inanna Lawton and Melissa Hewetson both presented in the previous UYMG event too. Others included Allan Forrest Smith, Nikhil Parekh, Andrew and Daryl Grant, Janet Switzer, Ken Shimizu and Ben Teo.