I have always found the Glass House Mountains a spectacular view while driving towards the Sunshine Coast from Brisbane. They are actually volcanic peaks that were created about 24 million years ago. I have often wanted to climb one of them and last Sunday I finally did.
As you may already know from the previous post, Maureen and I stayed at a log cabin at the Glass House Mountains called Crookneck Retreat. If not you can read about it and see some pictures of this lovely place here. We decided that we go on a bush walk while staying at Crookneck Retreat and we were advised that the walk and climb up Mt Ngungun was very nice, so long as it is not too wet. The added bonus was that the walk started about 2.5km from Crookneck Retreat, so it was easy to walk to it.
Maureen and I decided to walk to it. There were quite a few showers the night before, but there had been plenty of sunshine in the morning, so we hoped that the track would be suitable. Along Old Gympie Road we noticed Mt Ngungun to the east. The picture below was taken while walking along Old Gympie Road and it shows the highest peak that we will be attempting to reach.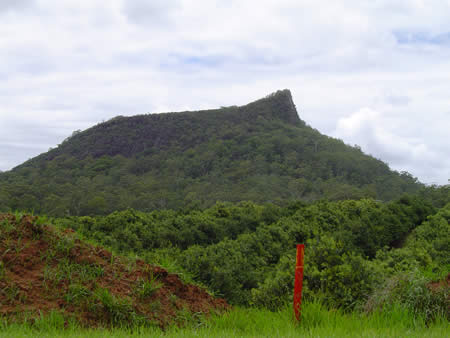 Not far along Old Gympie Road we had to turn left onto Fullertons Road. Fullertons road was quite a narrow road, so now I knew why Brett suggested that I take Coonowrin Road to get to Crookneck Retreat rather than this road. While walking along Fullertons road we noticed a better view of the cliff of Mt Ngungun.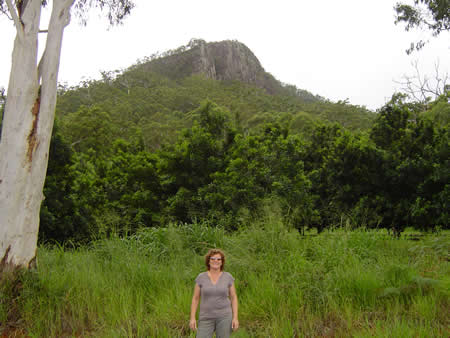 As we walked further along Fullertons road towards Mt Ngungun we were close to a farm house and we noticed a great view of Mt Coonowrin (Crookneck) and Mt Beewah behind us. The farm house had magnificent views of Mt Coonowrin, Mt Beewah and Mt Ngungun. They also had 2 dogs that let everyone know that we were walking past the property.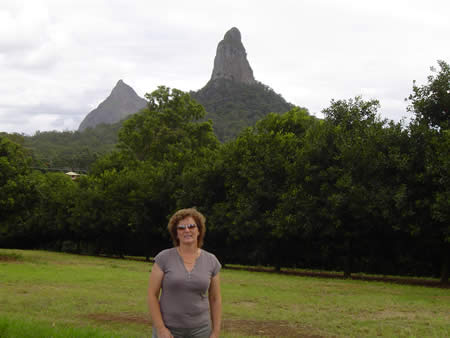 When we arrived at the entrance of the walk we noticed that there were about 5 cars parked in the provided car park, so it seemed to be a popular walk. The first part of the walk was a dirt pathway with a relatively gentle rise that snaked up the mountain. We were told by a couple on top of the summit later that there used to be a steeper walk in that section but they closed it for regeneration. We were walking in a rain forest environment with plenty of ferns and trees and the moisture from the plantation made the environment very humid and we were both perspiring.
Then the path turned into a rather steep rock climb. There was a slippery clay type substance between the rocks, so care needed to be taken while walking up. We were concerned with the return trip down, but that proved to be OK in the end. I can understand how this could be a little dangerous if it was too wet. Showers did fall while we were walking up, but that cooled us down a little. Also we noticed that others were successfully climbing down from the summit, so we continued our journey.
The photo below shows Maureen on the way down this rocky climb. To her right is a cave that is part of the scenery on this walk.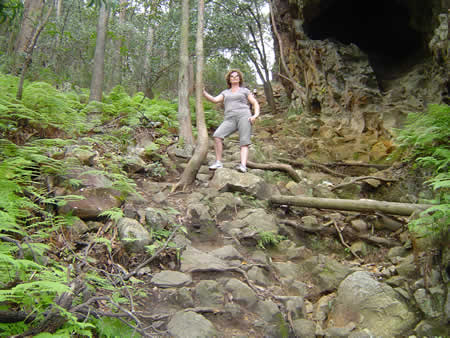 At the top of the picture above, there was a plateau followed by a further rocky climb. This section was not quite as rocky but had plenty slippery clay parts to avoid.
Eventually we arrived at the summit and enjoyed the spectacular views. It was very windy at the top and it was also cooler, which was pleasant after a sweaty walk to the summit. A French Girl and a girl from Chile were kind enough to take some photos of Maureen and me at the top of Mt Ngungun, including the 2 below.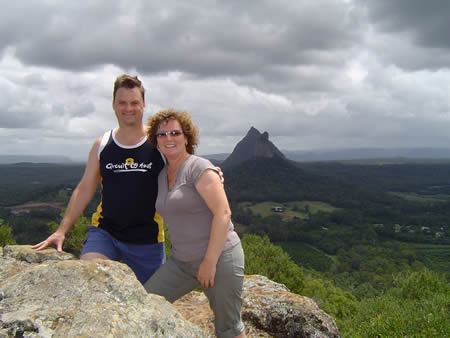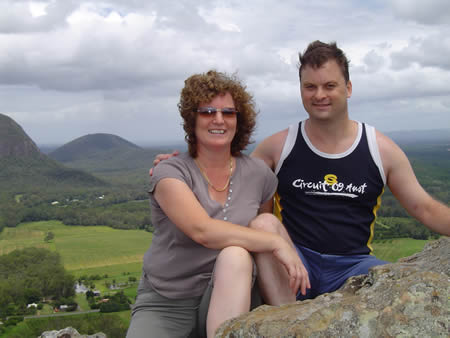 I also took this photo of Maureen with Mt Tibrogargan and what I think is Mt Tibberoowuccum in the background.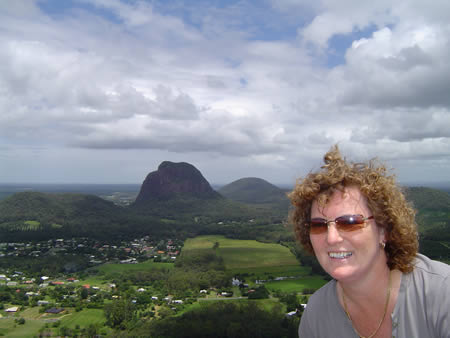 After the trip we returned to Crookneck retreat where I had a nice shower followed by a relaxing spa with a glass of bubbly. The photo of me in the spa in the Valentine's Vacation To Crookneck Retreat was taken after this walk and it showed that I did get sun burnt. So even if it is a cloudy day, I suggest that you protect your skin with sunburn cream and also wear better clothing than I did (a collar at least).