I decided to take Maureen away to a romantic location as part of a Valentine's day gift.  I spoke to her in advance so that we could make arrangements for the weekend and we decided that a log cabin would be a nice place to spend some time together. I did quite a bit of internet research to find a nice cabin to go to in SE Queensland, but Crookneck Retreat really did catch my eye.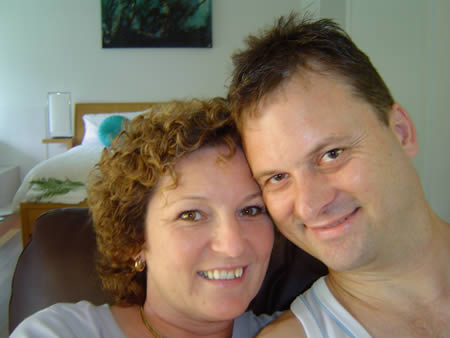 I rang Crookneck Retreat up to ask them some questions about it, but got their answer machine. Brett returned the call soon afterwards and I found him to be a pleasant person to talk to, so I booked the weekend on the spot.
Crookneck Retreat is located just to the west of the Glasshouse Mountains township, which is about an hours drive north of Brisbane. When we arrived we met Brett, Megan and their kids. They were very friendly and offered us some dvd's for our stay. We drove down a pathway surrounded by macadamia nut trees, which led to our cabin. There are 2 cabins on this property. Below is a picture of the one we stayed at.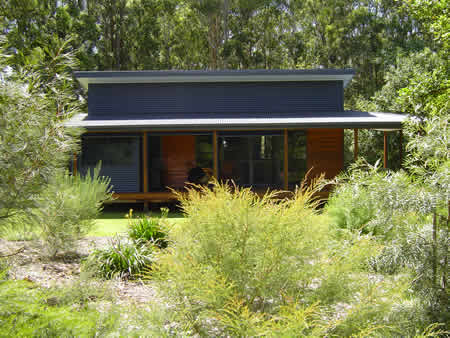 When we opened the door to the cabin, we heard some lovely soothing and relaxing music.  The CD was called "Cafe De La Mer" (Jens Buchert).  The cabin was very clean and nicely presented. There was a basket on a table with some biscuits and a bottle of wine.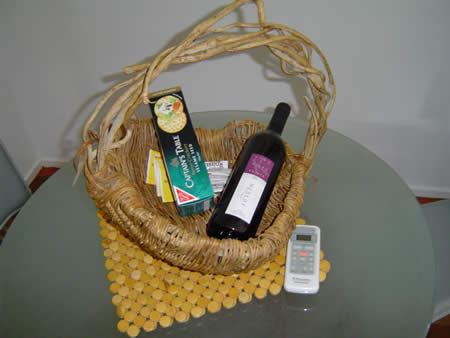 The wine, King River Estate Merlot 2004, was pleasant to taste along with cheese that was placed in the fridge. Also in the fridge were some chocolate coated macadamia nuts and some Maleny Milk. Maureen says the milk tasted very creamy and she really enjoyed it. The cheese was "Maleny Triple Cream Brie" and it was extremely tasty. There was a table on the deck in front of the cabin where you could crack some macadamia nuts that were provided in a basket with a very effective tool. The photo below shows Maureen at the table enjoying some of the treats.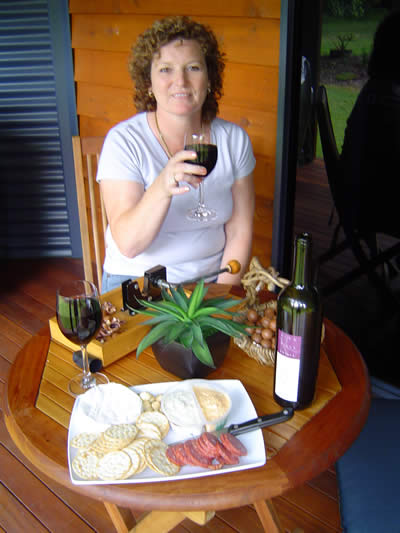 The bed was presented very well and it was also very comfortable to sleep in. The twin spa was located right next to it and the ensuite was located the other side of it.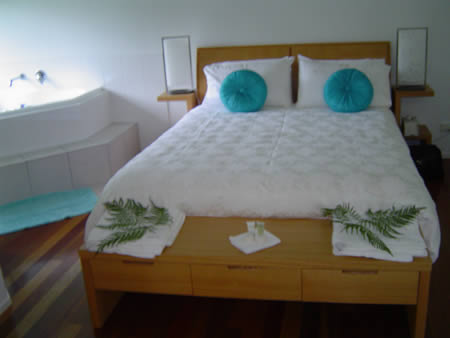 The other side of the log cabin had an entertainment area and a kitchen. There was also a fireplace and air conditioning system. We did not need to use the fireplace or the airconditioning unit, but the fireplace would be nice to use on a cold wintery night.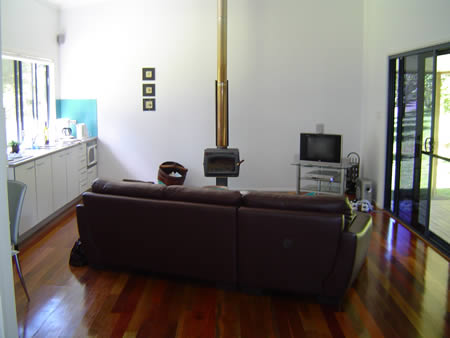 I loved using the twin spa. We bought a couple of bottles of bubbly and sipped on them while taking a spa. There were also some scented candles surrounding the spa.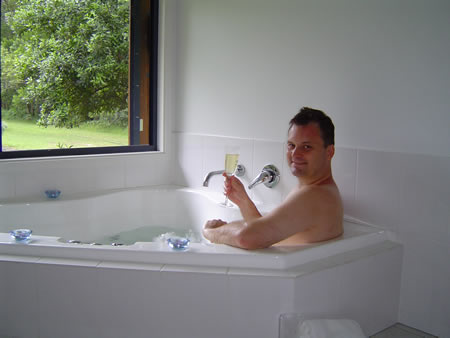 The views of the spa were very impressive. From where I was sitting you could get a view of part of the macadamia orchard and also the top of Mt Coonowrin (Crookneck). Below are two photos that were taken just in front of the window of the spa.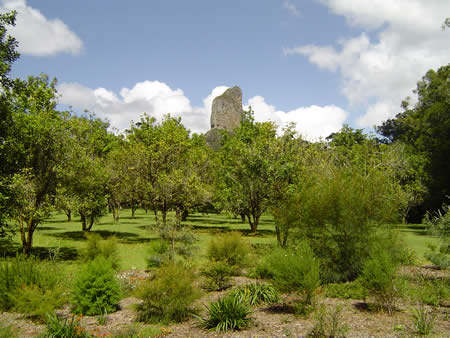 and the zoomed photo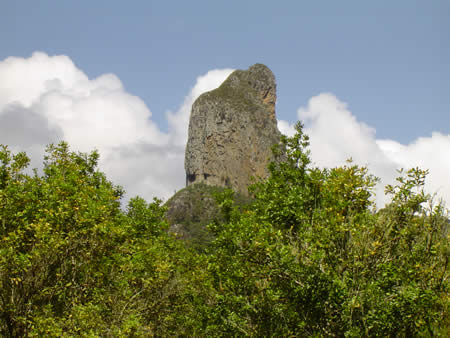 At night we watched some dvds. Maureen and I found the leather couch very comfortable. You can see how content she looks below.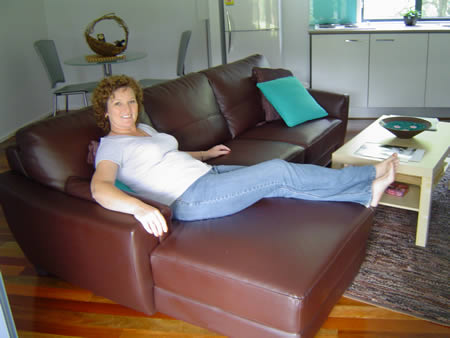 We used the BBQ facilities when dinner time came around. Below you can see Maureen attending to some chicken that we were cooking on the BBQ. They were yummy. Crookneck Retreat does provide BBQ packs at a cost, but we bought our own.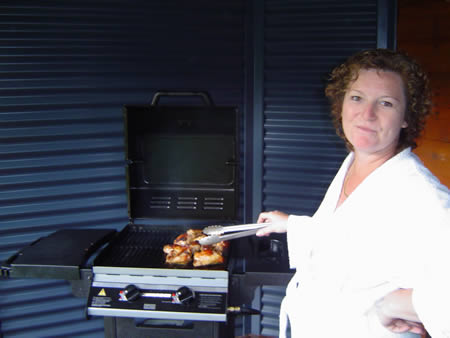 There are plenty of activities to do while staying at Crookneck Retreat, including climbing mountains, going to Australia Zoo, visiting Maleny and Montville or just relaxing in a peaceful environment. We climbed Mt Ngungun on the Sunday and the details of that adventure can be found here.
In summary, both Maureen and I really enjoyed our stay at Crookneck Retreat and we plan to return there. We thoroughly recommend it. You can find more information about Crookneck Retreat here.