As most of you will know already, I am a big fan of Stephen Pierce. I have listened to him speak live several times and I shall be looking forward to seeing him speak again at UYMG Sydney in March.
One of the many amazing things about Stephen is his ability to talk. He comes across to me as someone who can talk about topics such as business strategies, internet marketing and personal development in a structured, comfortable and entertaining manner.
The good news is that you can listen to some talks that Stephen Pierce has done and even talk back to him. DTAlpha TalkBack is the place to go to listen to and talk with Stephen Pierce. He has been doing regular talks on Mondays, Wednesdays and Fridays. Below is a snapshot of part of the DTAlpha Talkback page.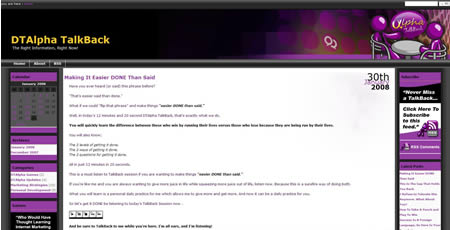 On the bottom left hand side of this page is a section that leads to some games that you can play for free to help you learn more about internet marketing.
The latest talk Stephen Pierce presented was done on Wednesday and it was titled Making It Easier DONE Than Said . In this talkback session Stephen talks about a strategy for getting things done. In summary, he says that you need to outline what needs to be done first. Do not go about doing things in an ad-hoc manner. After that you need to make a decision and know that you can do it. You need to believe in your abilities. You then need to decide whether to do it yourself, insource it, outsource it or use a combination of the 3. Finally you should ask yourself what you should do more or less of (broaden or narrow your focus).
I been very impressed with the presentations that Stephen provided, but I also found the comments made by Stephen and other contributors very interesting and enlightening. I thoroughly recommend that you check DTAlpha Talkback out now.