As part of the Alpha leadership program, we were all assigned a "buddy" to look after during the UYMG event. Although I chose Vanya and Jody, I did not really know them. As it turns out, I believe that I chose wisely.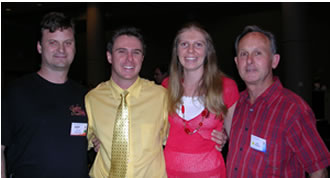 Vanya and Jody were invited by Stephen and Alicia Pierce to give a presentation at UYMG Sydney 2007. I met them both on the Friday morning of the event and I felt very comfortable in their presence. I seemed to relate to what they had to say and was amused when Vanya demonstrated some finger mathematics to me on the way to lunch.  I also learned that they lived reasonably close to me.
Vanya and Jody have a business "aquawebsites" which has really flourished since they decided to have Stephen Pierce as their mentor. They have 2 staff now (Samyo and Ken), who also attended UYMG Sydney as students. They were very nice people too. My dad also seemed to get along with all 4 of them too.
Although their business has much to offer, Vanya mostly gave a presentation about their autoresponder system.  He showed how easy it was to set up multiple newsletter messages on the autoresponder. Vanya was nervous about giving the presentation in front of a relatively large crowd, but I felt that he did a great job before his time ran out.
When I looked closer at what Vanya and Jody had to offer their clients I realized that they provided an excellent service at a bargain price. Some of my friends from SMCC mastermind group thought so too and they signed up for the aquawebsites package. I spoke to Jody yesterday and she told me that they are just putting video into their system now. These guys are keeping very busy to improve their system and to keep up with the times. This is another reason that I would thoroughly recommend what Vanya and Jody have to offer. I have already done so to a friend of mine.
Some of the features include
A shopping cart system that allows unlimited products
A 2 tiered affiliate program
Hosting and domain with unlimited webpages
An autoresponder for sending newsletters
Customer Login Area
Tax Invoicing and accounting system
24/7 help and support
There are many more features that can be viewed here.