After UYMG Sydney had finished in March, Stephen Pierce offered the Alpha Leaders the opportunity to participate in an Alpha Leadership summit at his house in Whitney 19th-21st May, followed by the WIS in Dallas 22nd-25th May.
If you have not yet registered for WIS (World Internet Summit) Dallas, then do so now and I shall see you there.  I got "It is only $97 for 4 days of learning from 12 of the best internet speakers in the world!!! Only $97!!! Not to mention the $29,494 worth of bonuses you will receive." in an email from SMCC. So you can see that there is some great value there. To register for WIS Dallas, click here.
I was excited about the idea but thought that getting leave from my work would be difficult, considering that I will be having at least 6 months off starting from July. I spoke to Alicia Pierce about my concerns, and she said something like "I am sure that you will use your charm to get the desired result". I felt that I had used up all of my charm to get time off to attend UYMG Sydney, but Alicia was right. My boss, Ann, found a way for me to get leave so that I could go to Texas. Thanks very much for that Ann. 🙂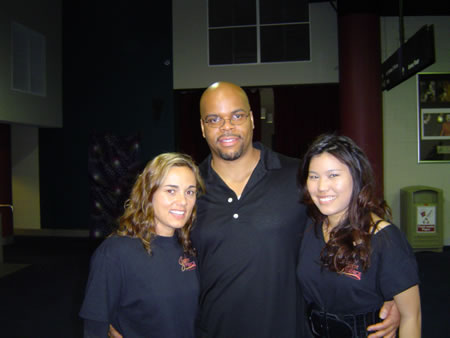 The photo above shows Joey and Jennifer with Stephen Pierce at UYMG Sydney 2008.  Jennifer, the girl on the right, was the Alpha Leader team captain at UYMG Sydney 2008 and will be travelling with me to Texas. Jennifer seemed to be a lovely person, so I am looking forward to having conversations with her on the flight to Texas. Gary, Veit and his wife are the only other confirmed Australian Alpha leaders going that I know of, but they are going on an earlier flight.
I have been very busy lately, but the excitement is certainly building up for this Texas trip. Not only will it be great to catch up with Stephen, Alicia, Laura, Sern Yi, the Alpha Leaders and the rest of the crew, but there will be many new people that I will have a chance to meet. I have never been to the USA too, so that will be an experience in itself.
I will take my camera again. Hopefully I can provide some nice snaps for the readers of this blog. 🙂