Melissa Hewetson was a guest speaker for UYMG Sydney 2007 and I was fortunate enough to spend some time talking to her before and during the event. I recall having a conversation with her about how I have very visual meditations.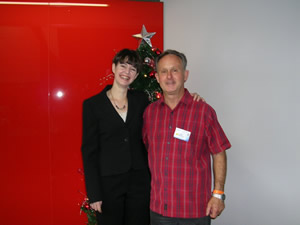 What I noticed about Melissa was that she always seemed to have a smile on her face and that she radiated love all around her. I found that I was always smiling at her too. It was contagious in a nice way.
Melissa has had over 20 years experience practicing metaphysics. She is a great believer in the possibility of gaining a higher energy by breathing consciously, or at least being aware of your breathing.
Melissa has read many books and has acquired a great deal of knowledge from them. She has read many similar to "The Secret" where the law of attraction is prominent. She gave a speech to the Alpha Leaders about a related topic that she called "The Law of Gratitude". 
Some of the things that she told us were similar to…
Write a gratitude list and say them out loud every morning
Treat each day as a holiday
Appreciate friends, neighbours and family
Learn to forgive yourself. If can only forgive someone else if you forgive yourself first. The same applies to love. You can only love another if you love yourself first. We cannot receive what we don't have to give and we cannot give what we don't have inside.
Trick your mind by saying that you will have a "crappy day" unless you don't feel
If you want to learn more about Melissa and her ideas, then visit http://www.poweroflawofattraction.com/