As promised in the http://bryanjamesstephens.com/stephen-pierce/uymg-sydney-seminar-2007 post I have put together some more photos of the UYMG Sydney 2007 event. I hope that you enjoy them.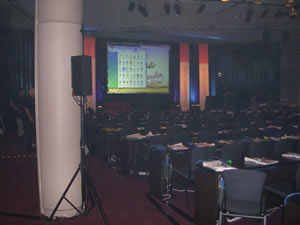 This is a photo of the stage and function room before it was properly set up. A work book, toy and a whistle was placed on each table for all to use and enjoy. All Internet connections were hard-wired.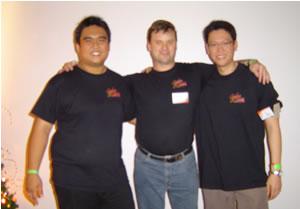 Jason Tan and Sern Yi made a special trip from Malaysia to Australia to help Stephen and Alicia on their tour.  They are very experienced people who made me feel very comfortable as an Alpha leader. Thanks guys.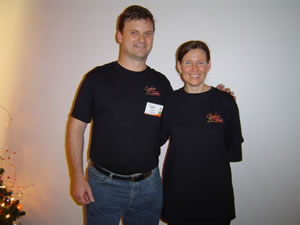 Kerri was the Alpha Leadership captain. I had met Kerri at previous Gold Coast and Brisbane mastermind meetings and found that she was a hard working person. We found out later that we live near each other and had some smaller meetings at times to help each other out. I shared the same flight to Sydney with Kerri and she helped me focus in the right direction for the UYMG event. Thanks for listening and guiding me Kerri.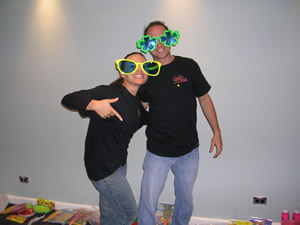 I loved this photo of Joey and Richard wearing some of the cool glasses we bought for the event. Joey (the pump master) and Richard were very friendly and happy going people that made UYMG more enjoyable.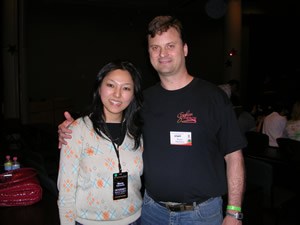 Marta is part of the traffic generation club that I belong to. I have been communicating to Marta over the Internet for months and it was a pleasure to finally meet her in person.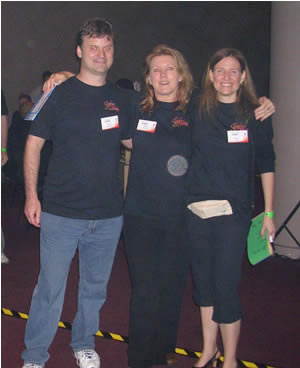 The photo above is one of Janet and Kerri with me. The event had finished, so Kerri could let her hair down. Janet and Kerri were the 2 girls in the Alpha Leadership group that also attend the Brisbane and Gold Coast mastermind meetings.
It was a pity that Karen could not make it this time. Janet and I have got together on occasions to help each other out with new ideas. I will talk about the "buddy system" another time, but Janet had 2 speakers to look after and I felt that she did a great job looking after them.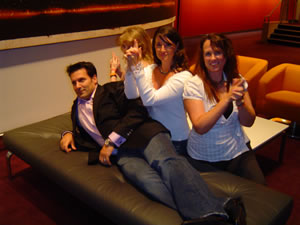 I was hoping to get a photo of J.P. and Deb with me, but they were already in demand. I liked them in this pose, so I seized the opportunity of taking a snap of JP and his 3 angels.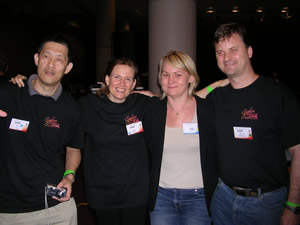 All 4 of us are members of the Gold Coast and Brisbane mastermind group. Tim Lee was the actual founder of the group and I was so glad that he was part of the Alpha leadership group with us. Angela Tsune attended UYMG as a participant with her brother. She also attended the UYMG Malaysia event and gave some insight of the event to Kerri and me a week or so before we left to go to Sydney.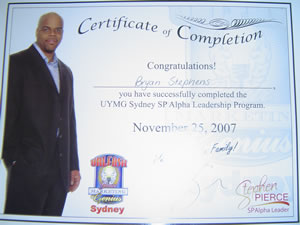 I was so stoked to get this SP Alpha Leadership certificate and wanted to show it off. If anyone gets the chance to become an Alpha Leader, then I would thoroughly recommend it.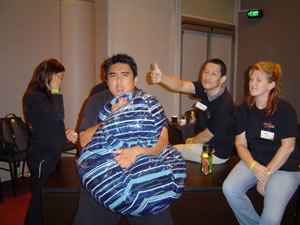 UYMG had finished and it was time to pack up. Here you can see Jason tan trying to get the air out of the ball. The girls were sitting on it earlier. I am not sure what was more difficult, blowing them up or letting them down?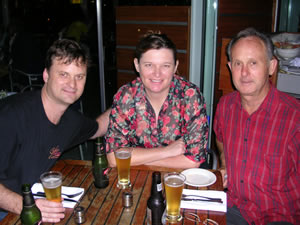 After all was finished I had a drink with Trudy and my dad. Trudy was a childhood neighbour who let dad an me stay with her in her unit at Balmain. Thanks for letting us stay Trudy. Also thanks dad for taking some of these photos and for supporting me and the rest of the Alpha team during the 5 day stay.