When Maureen told me that her Nephew "John" was going to have a wedding at Darwin in December, I thought that it was a crazy idea.
You see, Darwin is a very hot and humid place to be at during December and some of her relatives were coming from a cold winter in Scotland to attend. The bride's (Michelle) family mostly came from Melbourne. In any case the wedding went very well and I was glad that I participated in it.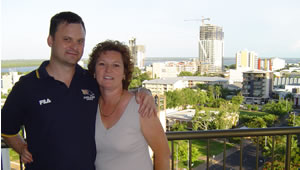 Maureen and I left on a flight on Thursday night which arrived in Darwin just before 1am. I had caught a cold in the 3 day period between UYMG Sydney and the flight which made me have problems with my ears for the 1st time on a flight. I can now relate to those poor people who suffer from it.
John and June, Maureen's brother and sister in law, were kind enough to let us stay on the 12th floor of the Marrakai apartments with them, however when we arrived they had fallen asleep and Maureen had trouble getting them to answer their phones. I thought that we were destined to sleep on the bench in front of the Marrakai, but June finally awoken to let us in.
I thought that the apartments were very nice and on the 12th floor there was a large balcony with 180 degree views of the city. Some of the views can be seen in the photo above and also the one just below. The fire season had finished, so the visibility was very good.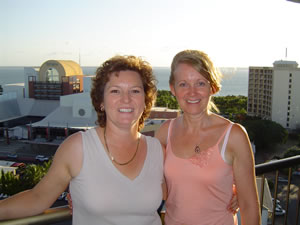 On the Friday morning, we awoken and prepared for the wedding. I had pre-planned a joke where I would wear a kilt that Maureen had made for me, along with a pair of thongs and a vest with Yosemite Sam on it.  The idea was that it was 1/3 Scottish, 1/3 Aussie and 1/3 fun. Click here to see how Maureen made the kilt step by step.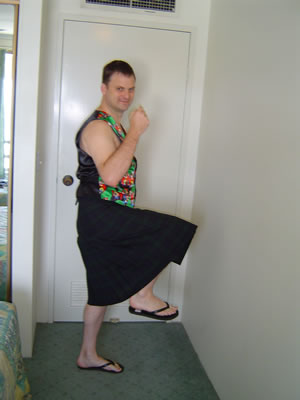 Maureen was stunning in her blue dress.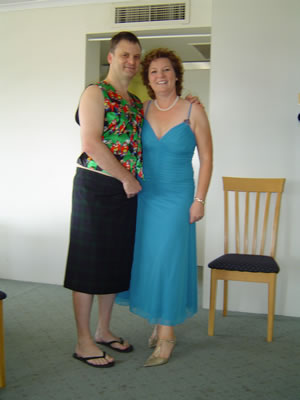 What we did not realize was that Colin, the best man, had decided to wear a real kilt. You can see him in the photo below next to John and John's dad (also named John).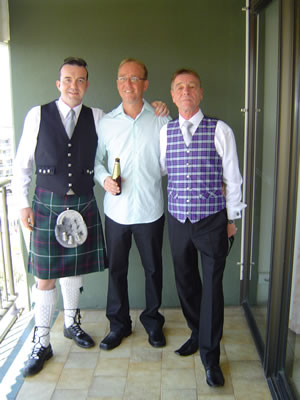 After a bit of a laugh, I got dressed into some more sensible clothing (although the kilt costume may have been cooler) and we all caught a bus to the ceremony.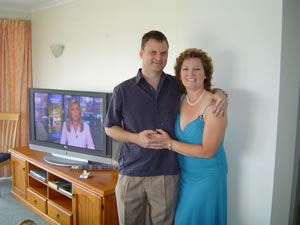 Family and friends piled into the registrar to see the ceremony between John and Michelle. The matron of honor was Michelle's sister "Nicole".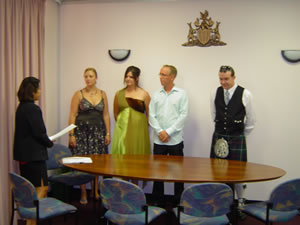 Afterwards we waited outside the registrar for a bus and I managed to get a lovely picture of John and Michelle with John's parents (John and June).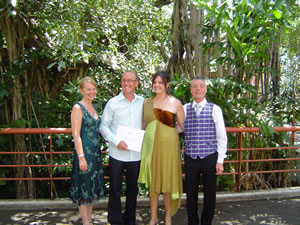 Lunch was at the Buzz Café at Cullen Bay. Not only was the food and service really good, but the view of the marina was great too. Also, anyone needing to visit the toilets had a surprise coming their way. The men's trough had a one way mirror where you watched people dine while you did your business. The toilet seats had red back spiders embedded in them.
After lunch we returned to the Marrikai for some speeches and then we went to the sailing club at Fannie Bay for the night. I actually snuck in a little nap before going there, as I was still not that well.
The band there was great and when I arrived people were dancing and having fun. Beer was available from kegs and late in the night someone bought out some fire starter drinks.  Apart from some Tabasco sauce, I am not sure what else was in them. They did clear my sinuses a little though.
It was great to catch up with the people there and it was also nice to meet some of Maureen's family. Some think that the Scottish are mad, but if you look at the video taken of David (June's brother, who also attended the wedding) earlier this year, then you may make your own mind up.