I was fortunate enough to be able to listen to a talk presented by John and Nilla Spark during the 2 day Alpha Leadership training program. John and Nilla were intending to attend the Sydney UYMG workshop but they had to be in Western Australia for the Australian Post Regional Franchise Award of the Year. They actually won the award too, so what an amazing effort.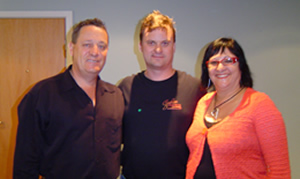 John and Nilla spoke about how combining generations in businesses can be very beneficial if you use the right approach. I could relate to what they had to say, as I am currently working my business with my dad and my 16 year old son and I certainly feel that it is beneficial for me.
Typically, the baby boomers and generation X have more experience than those from generation Y, but the generation Y age group tends to perform better in technical procedures.  However there are some other differences.
Generation Y people have been bought up where they want everything now. They have a different mindset to the older generations.
John and Nilla employ generation Y people and they told us that they often had to keep their mouths shut and let the generation Y people do their own thing.
They spoke about an example where 6 or so staff would go out for lunch, leaving only 2 to handle all of the work.  It is not the way that John and Nilla would have run the place, but they feel that it is best to let them manage their selves. Generation Y people are very resourceful and can find ways of coping.
Generation Y people do not like to be told what to do. They will often leave a job if they feel that their boss is slightly a dictator.
If you want to get the most out of a generation Y person, then you are best to ask them 2 questions.
What is important to you?
Why is that important to you?
Earlier we had played a game with Stephen and Alicia Pierce that showed what type of person we were. There were 4 different categories that were similar to Analytical People, Evaluators, Creative People and Action People.
For a successful business it is best to have all 4 types of people in it. What I have learned here is that it is also beneficial to have varying generations in a business.