As some of you would have realized, from the previous WIS Dallas post, I went to Texas to attend the World Internet Summit. However, some may not realize that after I arrived in Dallas, I spent some time in Whitney with some alpha leaders, Stephen Pierce and his lovely wife Alicia Pierce. I will describe some of the details of my trip below.
I left Brisbane airport on Sunday the 18th May and detoured via Sydney so that I could share a flight with Alpha Leader Jennifer. We arrived in Dallas at night, via Los Angeles, and went to La Quinta Inn via a free shuttle bus.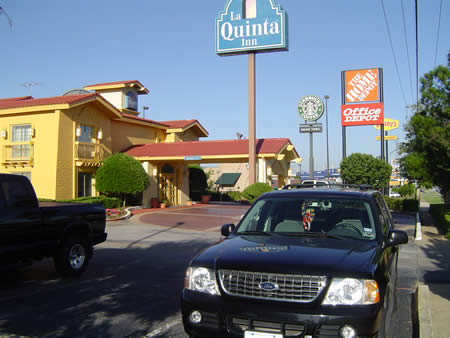 La Quinta Inn was a great place to stay and I must thank Gary for organizing it for us. La Quinta provided a wonderful buffet breakfast included in the price and the staff was very friendly.
During the morning we were packing our belongings to go to a log cabin that Alicia had booked for us, when I noticed a tornado chaser van. Being a meteorologist, I was keen to talk to the guy about his tornado ventures. He did not have too much time to talk, but he mentioned that due to the sophisticated equipment in the van that they usually find at least one tornado in a 2-3 week trip. He also mentioned that many Australians go on tour with them.  Go to Tradd Storm Chasing Tours for more information about these tours.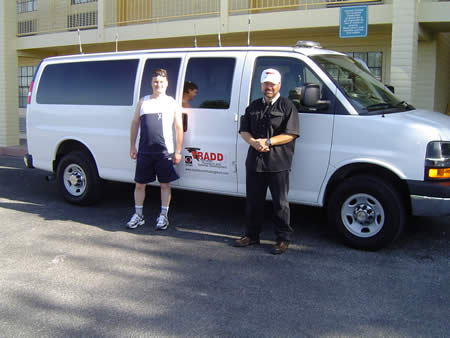 Gary drove a hire car to Whitney. Thanks again Gary for organizing that and also for driving. Gary is great for organizing things. He had the assistance of a global navigation system with Sean Connery's voice (very entertaining listening to instructions from a Scottish voice, "turn right, keep left"). Veit also helped navigate and did a great job, as Sean was not always right. While travelling on the highways I was glad that Gary was driving rather than me. It was so confusing compared to what I am used to back in Australia.
We also noticed the amount of large cars on the road. I guess that people may buy smaller cars in the USA eventually due to rising fuel costs? We had a break on the way to Whitney and I took the photo below of Veit, Evgania, Jennifer and Gary in front of the hire car.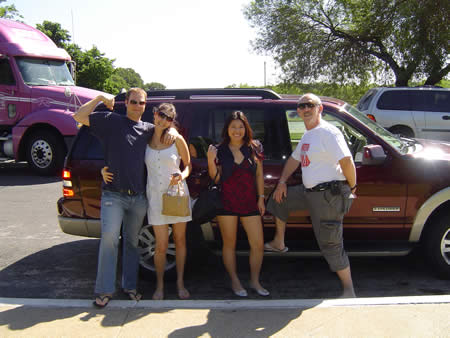 To get to the cabins we had to stop at a security gate in order to get permission to enter the reserve. Alicia told us later that Stephen and her stayed at one of these cabins before they bought the property that they now live in. The cabin had a queen size bed and 3 single beds upstairs, so it was cozy for us all. There was a golf course nearby too. I found it amusing that on the front door it had a sign saying "in case of tornado". Apparently tornadoes are quite common, but luckily for us none got too close to us during our stay.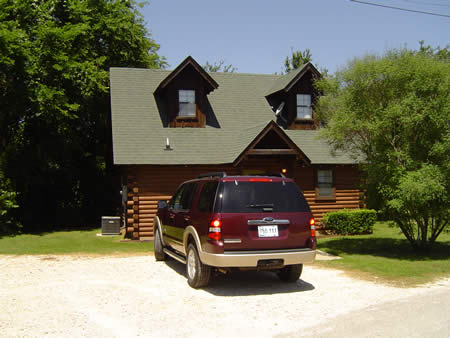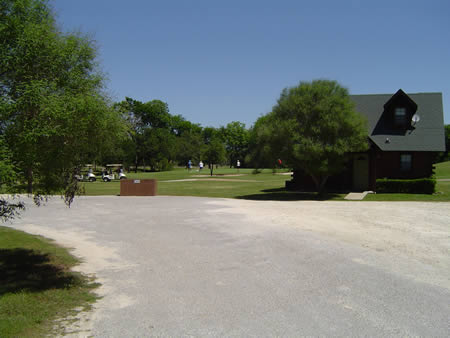 During the late morning we drove to Stephen and Alicia's place. Alicia showed us around the house while Stephen was cooking a BBQ for us. The house was large, well presented and very clean and tidy.  I noticed that the cielings were very high too. Stephen did a great job with the BBQ, and seeing that there were 3 vegetarians out of the 6 Alpha Leaders (Sern Yi stayed at the house), there was plenty for me to eat. It was very nice too.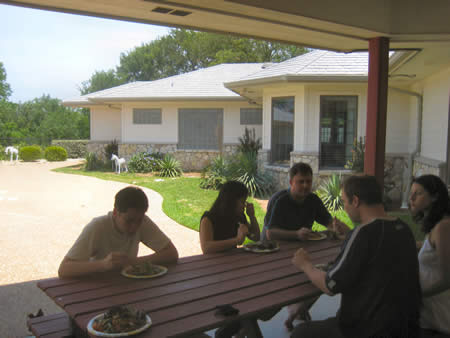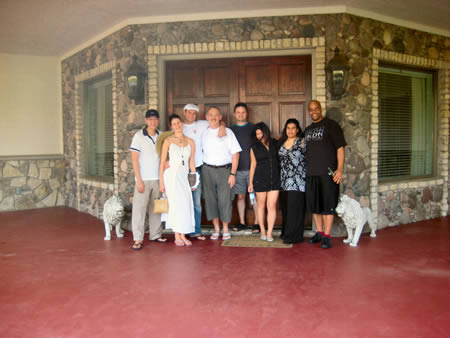 During our stay, 3 days, both Stephen and Alicia offered us tips for progressing with our Internet marketing projects. I certainly gained some great insight from them both and I really appreciate their hospitality and assistance. We also got to use the facilities that Stephen uses for DTAlpha Talkback for recording some audio products. Jennifer, in particular, made great use of this. 
On the second day, we all went for a boat cruise on Lake Whitney. Stephen seemed to be very content driving the boat. Some of us went for a swim in the lake. The water was fine. 🙂
We also watched a movie in their cinema.  The cinema had comfortable reclining chairs that had popcorn and drink holders and they vibrated with some of the actions in the movie. There was also a massage chair available for us to use at any time. The Alpha Leaders spent most of their time in the training room.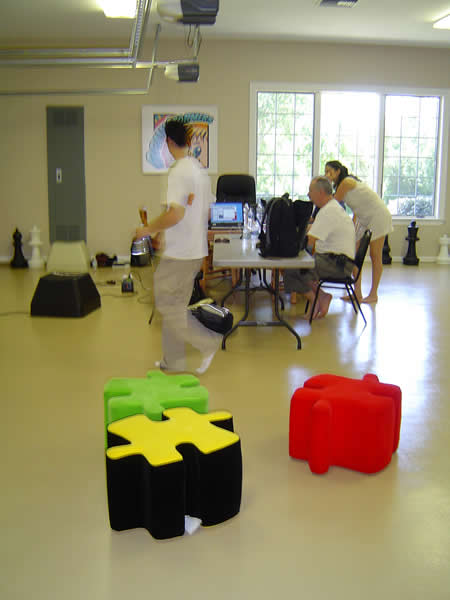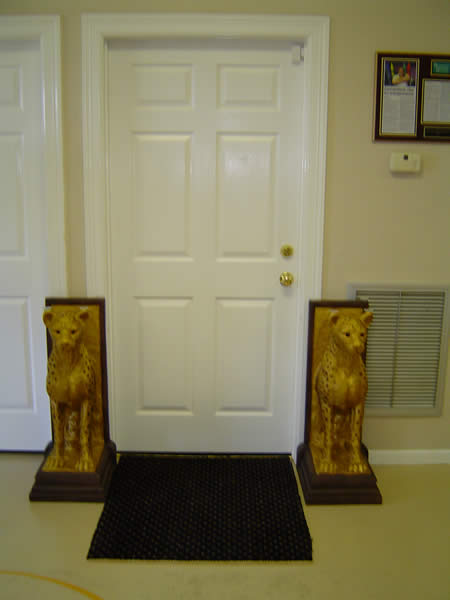 I was fortunate to meet Alicia's mother, Ilona. Ilona helps out Alicia and Stephen with their business and she also did much of the cooking for us during our stay. Not only was Ilona a good cook, but I loved her company. Ilona told me that she was born in Guyana and moved to Canada when she was 15. She loves the cricket and I am hoping that she visits me, as promised, in Australia some time so that we can both attend the cricket together.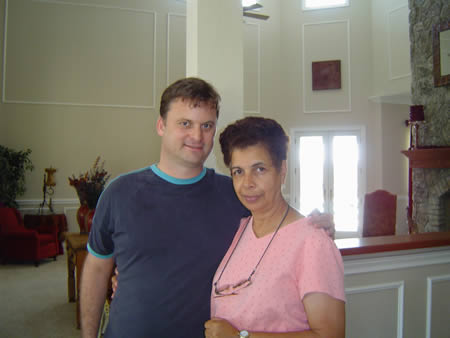 It was sad to leave, but we had to go to the Sheraton Hotel for our next adventure. That being WIS Dallas. Below is a photo taken by Gary of Sern Yi, Evgania, Veit, Jennifer and me in front of Stephen and Alicia's place before departing to Dallas.